A warm welcome is extended to you as you visit our custom doll boutique. Look around our site and be prepared to fall in love. Our specialty dolls will appeal to both the adult collector and older children.
Our products include doll kits in three different skin tones, wigs and clothing to dress your doll.  You can elect to assemble the doll yourself or select the assembly add-on option and allow us to put your components together and deliver a completed doll to you.
Are you looking for a doll and need it quickly?  Doll in the Looking Glass has a collection of dolls that are ready to ship.  Our Baby Dolls That Look Real collection showcases these dolls that are ready to be loved and can be shipped immediately.
Be certain to look through our Photo Doll Gallery to see the custom dolls that we have created for recent clients.
Doll in the Looking Glass creates toddler and baby dolls that look real.  What makes them look so realistic?  Look at the eyes.  The eyes used in our dolls are made of an optical grade acrylic, the same material used to create the lens in your glasses.  The incredible detail in the iris sets our dolls apart -- they are some of the most lifelike doll eyes you will find.  All dolls from our boutique are created with cloth bodies and vinyl faces, arms and legs. All vinyl parts were made in Midland, Michigan USA by Apple Valley Doll Works. Cloth bodies of the dolls that we assemble are stuffed with non-allergenic 100% polyester fiber fill.
Our studio is smoke-free and pet-free.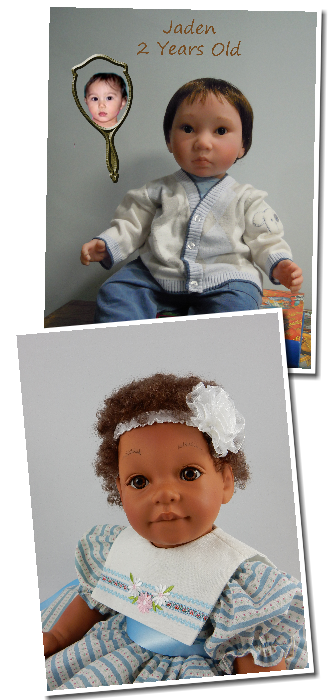 About Us
The goal of our doll boutique is to delight our customers with our creations. I loved my dolls as a child and have continued my passion as an adult collector. My personal collection of dolls includes my childhood favorites, dolls acquired over the years from major manufacturers of collectible dolls as well as my own creations using Apple Valley Doll Works components. I am pleased to share my love of dolls with you through this on-line shop. After a career spanning almost 40 years working at the corporate headquarters of a major corporation, retirement presented a new opportunity for creative expression. This website and the dolls created to share with you, our valued customer, represent this endeavor of love.  If you have any questions about our offerings, please submit your inquiry using the Contact form.
Thank you for your support of our small business.
* Due to the large size of our dolls and the small buttons/trim on clothing selections that could be a choking hazard if swallowed, our dolls are not recommended for play by children under 3 years of age.